Announcing not one, not two, but three new userscripts that went live just a little while ago.
1. Supercharged Cover Art Edits
Have you ever noticed the vast amount of empty space on the right hand side of cover art edits? It's free real estate. Let's use it to supercharge voting on cover art edits!
Features
Displays handy release information (status, packaging, format) on cover art edits, so you can easily check whether a medium scan is added to a digital media release, a square front cover is added to a digipak, or any sort of cover art is added to a pseudo-release.
Displays other images inline next to the new or removed image, facilitating checking an image against the rest of the images without opening the cover art tab. Immensily powerful on cover art removals: Check whether a matching replacement image exists without opening other tabs!
Can show a pop-up dialog enabling more detailed comparison between two images, either side-by-side, or in overlay mode (hover over the images to switch between two versions).
Makes use of resemble.js to calculate similarity between two images and highlight differences, making spotting even the most subtle differences in images child's play.
Screenshots
Other Tidbits
Generating the similarity and differences can be quite expensive, so it's not done automatically, and requires clicking it when you need it. It's normal for it to lock up your browser a bit. I have some ideas to make it more responsive, but that would require technologies that aren't widely supported in browsers yet.
Works very well in conjunction with Display CAA Dimensions.
2. Blind Votes
While voting on edits here, I began to notice potential bias in my reviews. There are often edits where I see a familiar name as the editor and think "Well I've never seen this person do a bad edit of this type before, so most likely this one will be fine too and I don't have to check in depth as much as I usually do." I decided to try to eliminate some of this bias, so I wrote this little script. It blinds out the editor's name on open edits on which you have not voted, as well as the names of voters and the votes cast so far (to prevent peer pressure). Whenever you select a vote, the details are unblinded. I'm not sure whether it will provide a better or more reliable voting experience, but it's a fun experiment nonetheless. Install here.

3. Collapse Work Attributes
Since I'm probably the root cause of the rise in work attributes because of the work code importer, when I saw MBS-11535 and MBS-11537, I felt it to be my duty to provide a userscript as a temporary workaround. Not much else to say here, it does what it says it does

Should work on every page where work attributes are displayed. Install here.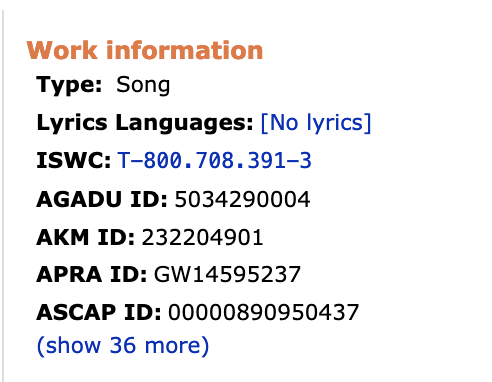 Help! Your Cool Stuff Doesn't Work!
Problems? Feature requests? File an issue in the GitHub repo or reach out via IRC.