But consider this, Riff… how will anyone ever be able to make sense of that without a good AcoustID fingerprint on it?

Hahaha… well, I dunno if I'll be super active in contributing to it, but, sure, I'd love to be able to collaborate on it. I know of some stuff that really blurs the lines between "normal" and memetic music…
Anyway, I spent some time tonight marveling at the task now before me: one of my friends wants to tag their stuff from the A-One circle, and at that point I realized a bunch of their Releases are just a spaghettified mess of clashing relationship and crediting standards… and I've been trying to tidy up the first few Releases. I've got loooots of open edits now… at least compared to what I'm used to.

I definitely try not to rock the boat too much with my editing and refrain from doing huge sweeping changes all at once, but I'm sure I'll have a good few pages of open edits for stuff like relationship edits/removals in the next week… Anyone want to take bets on how many releases I'll make it through before I get sick of it and take a hiatus?
EDIT:
I forgot when I was posting just now, but during the middle of the day, when I was working on those releases, I took some before/after screenshots of POD JACK just for the fun of it.
---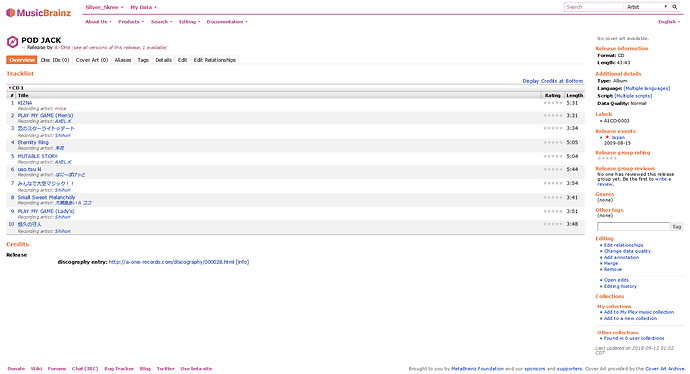 ---