Could somebody please help, I am looking to find my User ID?
Thank you for your help in advance.
I don't think there is a public visible user ID. There is your unique MusicBrainz user name, Lee_Austin.
For what do you need it? I have the feeling you are coming from the BBC Introducing Artists site, right? There was a question about that recently​, see
If this is the case you need a MusicBrainz artist ID, not your user ID. You can search for an existing artist or create a new one, see the thread I linked to.
I could not find any existing artist for Mr Beat & The Preacher, so maybe you should just create one with the form at https://musicbrainz.org/artist/create
Thank you! for your help I willInvestigate further
Yes for the BBC introducing site
The BBC wants artist IDs, so this one, probably.
Just, probably not that exact one; the Lee Austin artist we have doesn't look like the same Lee Austin who has the userpage (and presumably created the thread). As @outsidecontext said, the page will need to be created. Though, @Lee_Austin, if you did write "Screwdriver" on The Sound of Funk, Volume 2, then you can skip a few steps and just use that c3855bf9-… And since no one else has linked it in this particular thread, you might want to check out the BBC Landing page if you haven't yet.
Thank you guys for all your comments with your help i have added the artist id and the BBC site have accepted it
Hi, I am having trouble finding my Music Brainz ID, I have registered myself as an artist and when I click on the artist profile it is still not there. Thank you
Hi @iamleonmusic,
Please read the other posts in this thread. If you have a specific question not already answered above, please ask that. (Note that there is no such thing as an "artist profile" in MusicBrainz. We have user/editor profiles and Artist entities, my guess is that you have only made a user/editor account, and not created an Artist entity representing you yet. Again, please see previous posts in the topic.)
Where did that long artist id come from you've posted at the end?
Going through the same BBC Introducing registration and looking through these posts and responses saying read previous posts on this subject but can't figure out where the long artist ID came from (tried my 7 digit one also shown in the answer 1322429 but it doesn't work) you don't show how you got to it?
Ta
I don't think anyone's actually posted how to find your artist ID.
If you navigate to the artist page that you want the ID for, it should be at the end of the url in your browser.
Eg: https://musicbrainz.org/artist/THISISYOURID
Assuming the below is you the bbc want 43bd3eaf-139f-4d23-aa8a-b64dc736f94b

The BBC use our artist id's to create thair pages:

Thanks guys, got it!
Yep, that's my bbc artist page.
Hello everyone,
Thanks for all this help - unfortunately I'm still unable to find my Artist ID too (very new to MusicBrainz!) how do you get to the long code?
Thanks,
Chloe
I can see you created the following entry:

85455875-aa24-456f-9cd1-371320aac426 is your musicbrainz identifier.
Thanks so much - massive help!
I see that @dns_server has already told you your Artist ID, but in case you need to look one up in the future, you can search for the artist by name and, once displayed, open the "Details" tab, and you should see the MBID. This is the ID code for the entity displayed, in this case your Artist record.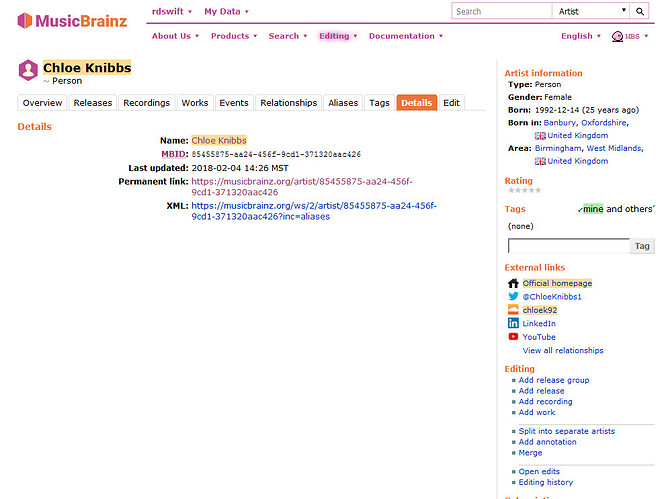 hi guys currently trying to find my MBID if theres anyone that could search it up for us would be amazing !
Hi! Do you have an artist page? If you do, just go to the Details tab and copy the MBID. If you don't, you'll need to create one (just a user account is not enough).