Hi,
I still don't understand which recordings should be (correctly) linked to a specific AcoustID:
specific recording including correct title - yes, of course
correct recording (content of file), but tagged wrongly - I suppose no
different but similar recordings (?)
I've got a very simple example. No bad data, only technical issues. Because of switching track positions on the Japanese release files were tagged with wrong titles (recordings) from the French or US release.
"3 Deuces" (Japanese #5, F/US #1) switched position with "Burning Down the House". Here is the AcoustID of #5 of the Japanese release: (After comparing the pattern of JP and F/US submissions, I disabled the wrong MBID)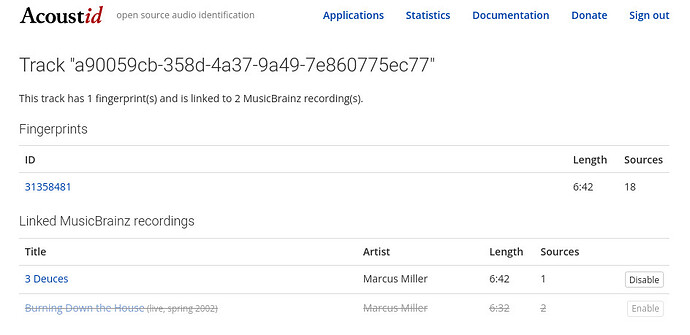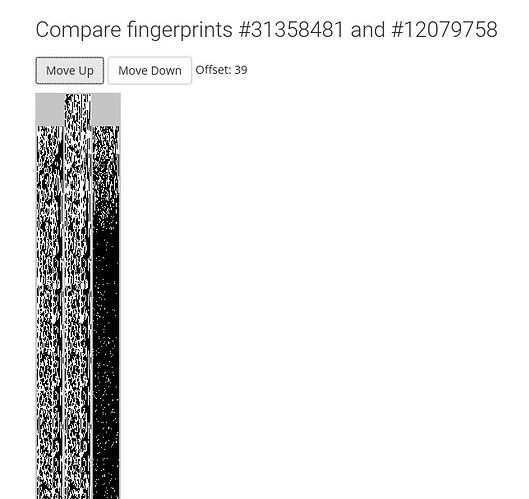 (During the first seconds the F/US track 1 is differently mixed (applause/audience), then it's perfectly the same)
That's case 2 … okay so far?
On the F/US release side, I've got case 3: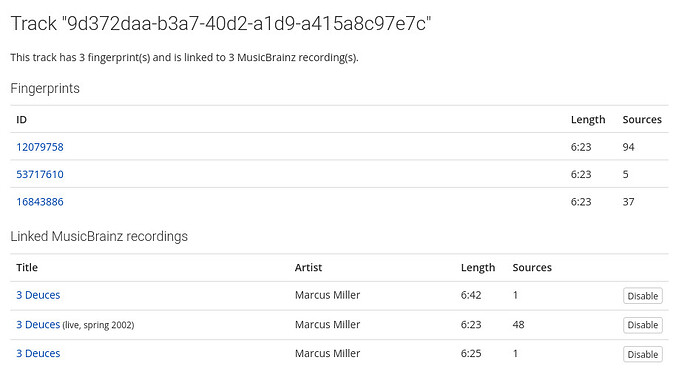 The first 3 Deuces is the Japanese version. You can distinguish them by the live disambiguation comment of the F/US recording.
(the third is from a compilation and should probably be merged)
Should the Japanese version be disabled as well?
Is it a good thing to have more than one recording associated to an AcoustID? Is that helpful? Is it damaging?
I hope for answers.

Recordings from example:
(third: Recording "3 Deuces" by Marcus Miller - MusicBrainz)