I had some fun with the Discourse plugin API over the weekend and put together a small plugin that would allow users to show their most recent ListenBrainz listen in their discourse profile. For those who do not know, Discourse is the software powering these forums. Here is a screenshot on how it currently looks like: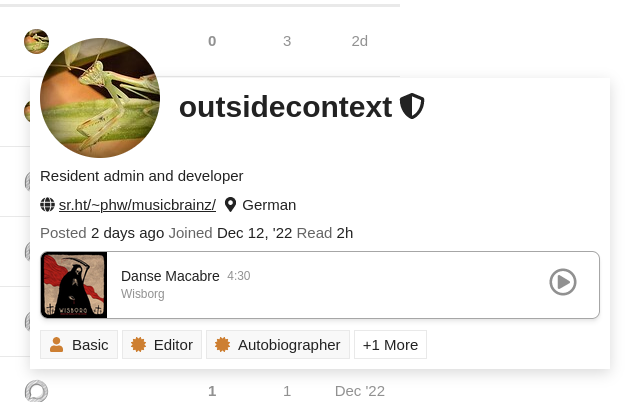 Currently this allows users to enable this functionality in their Discourse profile preferences and the plugin will either show their "now playing" track or the most recent listen if it is not older than a configurable time (defaults to 24 hours, but users can change that). The listen is shown in a similar style to how it is on LB, and there is a button that let other users open the "Play on ListenBrainz" page.
This is all work in progress and I have some ideas on how to extend this. So far this has been only a fun project for me to get to know Discourse capabilities better.
I am willing to make this into something useful if there is a) some interest here in the community and b) @Freso and @Zas would be interested into including such a plugin in the MB community Discourse setup.
So let me know, is this something you would like to see in MB community? If yes, what features would you expect exactly? Would you actually use it?
For those interested in the actual plugin, the current source is available at ~phw/discourse-listenbrainz - sourcehut git