Hi everyone,
at this time I have a very moderate trust on the Picard/AcousticID accuracy,
An interesting use case
here the good title is a live version of "love twist" by Culture Club, finally I have a Green result as Love is Cold recorded version, I am not sure that the acousticID/FingerPrint is good.
I think the acousticID prior to find the result, but I don't understand how this is AcousticID is generated, there is a process to fix wrong Acoustic ID ? there is another way to force another/different way to find the result with Picard with other information (other ids, title, filename, …)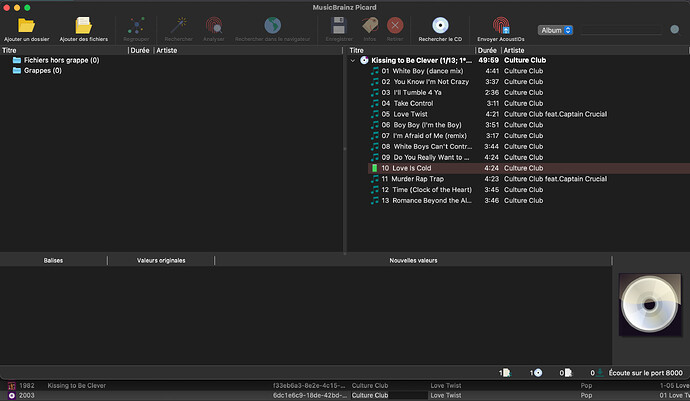 the problem with this kind of error, when I use such songkong, Jaikoz product, that generate a mess in the audio file collection, I am lucky that I made a copy of original audio file storage, so when I detect an error I can check with the original.
I found an answer if I very this : Track "6dc1e6c9-18de-42bd-a26a-e212bf66c3c6" | AcoustID
here Love Is Cold
this is the acoustic id for this tune : Track "6dc1e6c9-18de-42bd-a26a-e212bf66c3c6" | AcoustID but is does not match with the reality of this song : Love Twist
How it's possible to have the wrong acoustic id and how to fix it
Thank you