Hi All,
Just noticed a strange thing, for Jan Amit artist there was 2 pages.
After I merged them in https://musicbrainz.org/edit/51542753 the master page now is https://musicbrainz.org/artist/98f2ab02-aff3-4386-85d1-ae2351164fb3.
But their relationships seem not to be merged, because bandcamp murdos script show me two bandcamp pages referring to this artist: https://janamit.bandcamp.com/album/hymns-ep one that was merged and second that is master record now.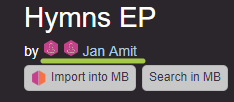 What can I do with this?