I made a PowerShell script to make FLAC-metadata easy to copy-paste for contribution on MusicBrainz
If interested look at: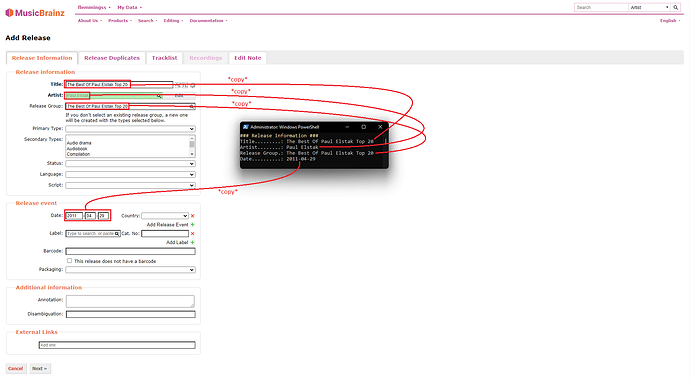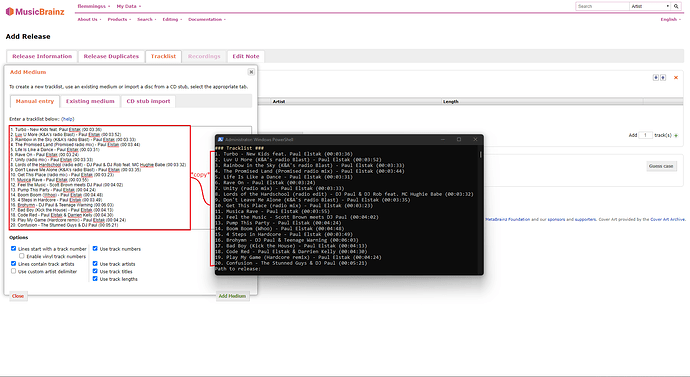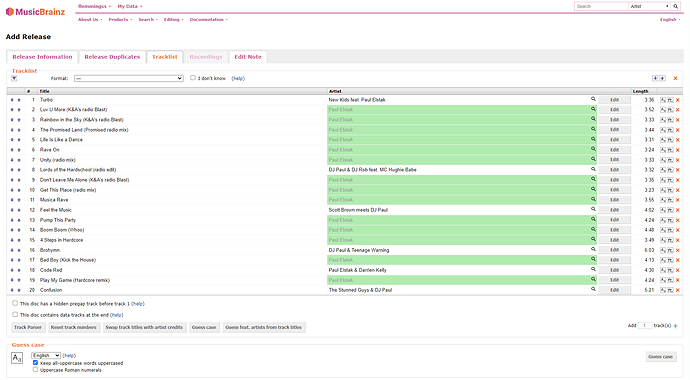 I might look into that

I think I'm going to be a reluctant Qobuz customer soon now that the Tidal store shut down, so I just added support for seeding release edits from Qobuz album pages to yambs. You can try it out at https://yambs.erat.org/ – set the source to "URL" and enter an album URL like https://www.qobuz.com/us-en/album/time-out-legacy-edition-dave-brubeck/0884977171662. I haven't used it yet to actually submit any edits, but it seems to work for the albums that I looked at. Let me know if you try it and run into bugs!
Worked for me, added Release "Hyttetur 2" by Svartepetter - MusicBrainz

Some issues:
[cover image] was selected, but not added
Autoselected "English" as language, even if both release and language is "Norwegian".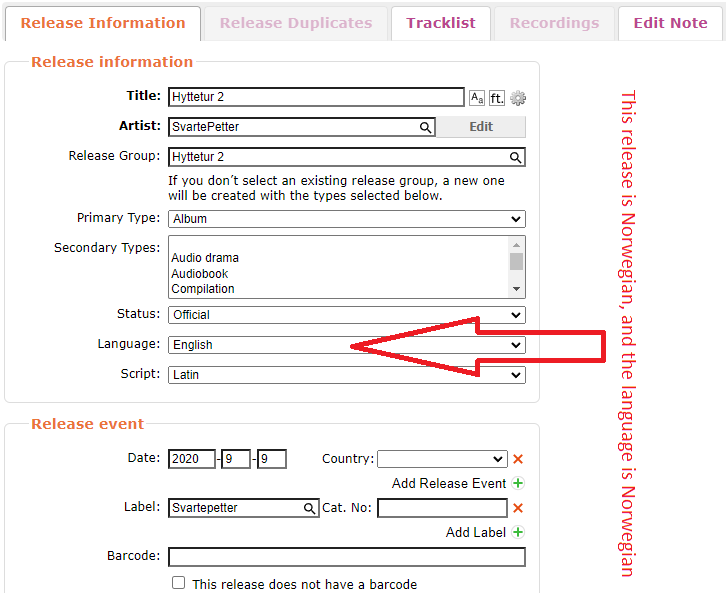 Thanks for trying it out!
As far as I've been able to tell, there's no way to include a cover image when seeding an MB edit. The closest that I've been able to get is providing a link to the highest-resolution image and then making the add-release edit redirect to the add-cover-art page once it's been submitted, so that the cover image can be dragged-and-dropped to upload it. Definitely not ideal, but I haven't been able to find anything better.
This is another known issue, but it's a tough one. As far as I can tell, Qobuz doesn't specify that Norwegian is the language used for the track titles anywhere in the source of https://www.qobuz.com/us-en/album/hyttetur-2-svartepetter/e3qy2e01fbs9a (and the country and language codes in the URL seem to be unrelated to the album's language). I have the same problem with Bandcamp pages. I've filed Detect release language and script · Issue #5 · derat/yambs · GitHub to track this for now.
I also thanked about the Google API to detect language, however. This one "thing" is not super-important.
BUT: Language should be empty if you don't have any clue what language the release is on.
For what I see there is as far as I have detected any way on the Cobuz site to detect language.