For a long time from the time I started editing in MB, I struggled with the hierarchy and relationships of RG, Release, track, recording, work, etc. I often thought that a graphical diagram would be helpful. I've never found one, so first I'm asking, does such a thing exist, and if so, where?
If not, I'd like to propose that it be created and made available in documentation, especially in the "getting started" areas. Below is a very simple example that I just threw together to illustrate the idea. Obviously it's extremely simple, a 50,000-foot view. I think I would have had a much easier time getting my bearings if a diagram like this had accompanied the How-To's, Beginner's Guide, etc.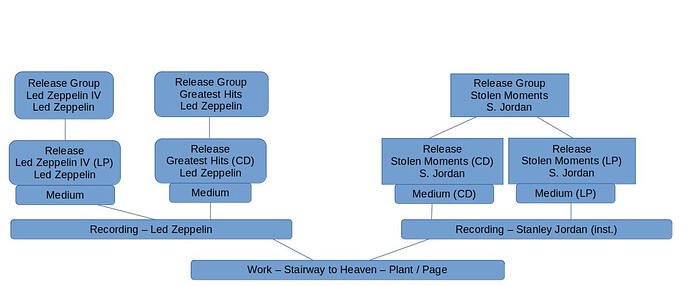 If you really want to get ambitious about it, each element in the diagram could be a click-through to the relevant documentation page.