I just found a Recording with different RS + diff. years added to a recording: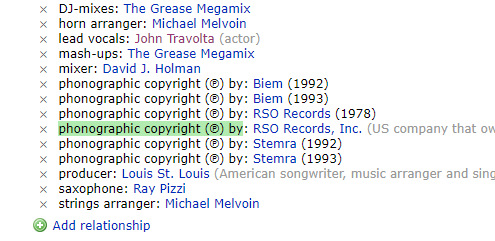 Is this correct?
I add Rights Socs to the Releases as it helps spotting the difference between CD pressings.
But this image looks confused. Rights Socs and Phonographic Copyrights are different things. Don't think BEIM and STEMRA should be set as copyright holders - and why are they mixed case like that. Something odd there. (But I may also be totally wrong…)
yes I think that's where they belong, and I also think the (P) relation is not correct.
So I think we should remove the RS from the recordings
Totally agree they need to be stripped out. I guess they are coming from a compilation somewhere. Sometimes I have see releases where different tracks are different Rights Socs, but that then goes into the annotation.
Maybe try and work out who the editor is adding these. Certainly not a general practice as the (p) relationship is totally different thing.
That's exactly what happened, the rear cover art of a compilation release falsely lists these rights societies as "All Rights Reserved, (P) 1992 Biem/Stemra". They should be removed from all the involved recordings.
Edit: Now we have 550 pending removal edits for this compilation release alone (275x BIEM and 275x STEMRA, I already cancelled the one unintentional removal edit)

Well spotted @kellnerd
I looked at MCPS - and there is only one album involved. Same issue though Release "Secret Island" by Theo Travis - MusicBrainz
Trouble is - There are 300 on the STEMRA page alone!! That is a lot of cleanup to do. So I'll start on MCPS as it is a quick fix.

On a side note - I just fixed a batch of accidental publishers on those pages. Easy error to select as it is the one next to Rights Soc in the list (and I was one of the people who had done it… )
Edit to add: Kellnerd's magic scripts and 550 pending edits. Well, it is a way to get vote count up this week. LOLz.
After having a look at the phonographic copyright relationship pages of these two rights societies, I only missed 2 out of 277:
Here are the remaining four edits to clean up BIEM and STEMRA recording rels.
@IvanDobsky already cleaned up MCPS and PRS, GEMA and SACEM were already clean, so most of the major societies should be covered.
If anyone is interested to help, here's the list of all right societies

Just been on SIAE page too…
This is often a layout issue. "(p) 1992 - SIAE" is naming two different things at same time. Just like "All Rights Reserved, (P) 1992 Biem/Stemra" is multiple things on one line.
Edit: been through a few of the "other" relationships on BIEM, STEMRA, MCPS, PRS, GEMA, SACEM, SIAE, n©b, SACD, SECAM and a few others… was getting really bored of the person I had bickering away on the phone so cleaned them up. Some of these are just plain typo slips when selecting from the drop-down list. (I know, as I found at least four of my own edits in there… haha)
It was like in a fairy tale. You report a problem, two fairies appear and… swoosh… everything is done. Great work, thx.
Not so sure about that Fairy description