Hello,
We had a discussion on the Release Group Redesign Ticket, which I thought can gather more opinions here. The feature is to display tracklists on the Release group.
Some issues with it will be (just copy pasting points raised in the ticket)
What to do if the different releases have different track lists: Show the most common track list? The biggest one? The original release's track list? Or perhaps the biggest track list with a visual difference between tracks on the original release and subsequent bonus tracks.
If we display tracklists for every release on expanding, we see two problems here
a lot of repetitive information
tracklists can be huge in numbers and title length. I just feel it will crowd the space.
It will provide no useful data in terms of comparison. Like I can't see, if this track appears only on this release or across all releases.
For tracklist, I agree that what we should attempt at is not a "generic, combined" tracklist and come up with a smarter way to represent it. Taking tracks from the "base" release and marking out the ones which appear only on selected releases seems like a way to do it.
base release = the first release added to MB, from which other releases were duplicated? Am I right here?
*On expanding the track which appears on selected releases, we can show the releases it appears on.
Would love your thoughts on this one. Attaching the mockup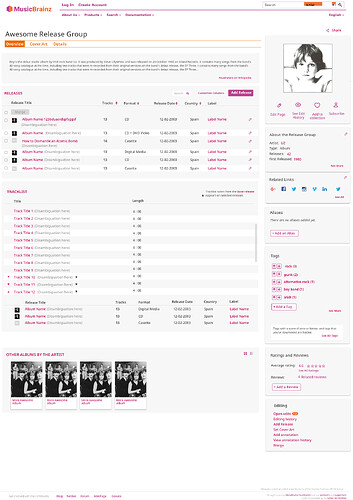 Thanks in advance