OK, I did some research and I have to say that it's a bit of a nightmare. It's about the different releases in the following release group:

This album is a single piece of music, cut in two for vinyl releases. There's a division into parts mentioned on the labels and back cover, with track durations. For the first CD release (Bellaphon, late 1980s), they applied track indices according to those track durations on the LP.
But all remsatered re-issues, starting with the 2004 Eclectic release, have the track indices at different places for the last 5 parts. (Although the artwork of the LP with old track durations is used on two re-issues that contain the new track durations, so even more confusing.) And not just a bit. I made the following image with a timeline for the second part of the album. Left is the LP and early CD, right is the 2004 and later reissues.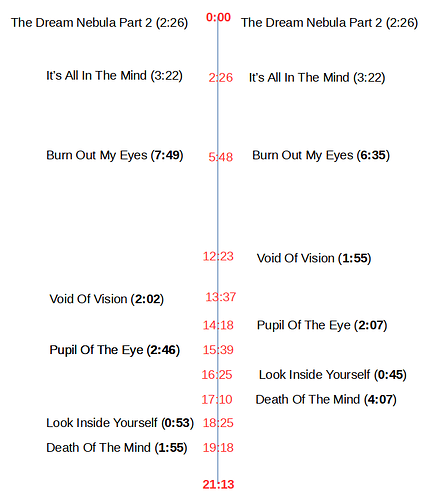 So it's not just a bit longer or shorter. Linking to works will be difficult now. The last 5 tracks contain large parts of other parts. The old Look Inside Yourself is part of the new Death Of The Mind, the new Look Inside Yourself is part of the old Pupil Of The Eye.
The thought crossed my mind of making Journey (the whole suite) as a single work and all recordings part of it. But it's also about the links from releases to recordings.
How should I get this one into the database properly? Thoughts, ideas?