I'm pretty new to using MusicBrainz & I'm having trouble parsing some of the information & the way it's laid out.
The box set in question is:
Herbert von Karajan - The Complete EMI Recordings 1946–1984, Volume 1: Orchestral
It can be found here: https://musicbrainz.org/release/b92d6fd5-c9d9-427d-9c97-02a03a1ea384
I've been working my way through, adding the recording dates to my library in Roon & I've arrived at disc 78, which is so confusing, it's caused me to sign up & ask this question!
The following screenshot is taken from the booklet: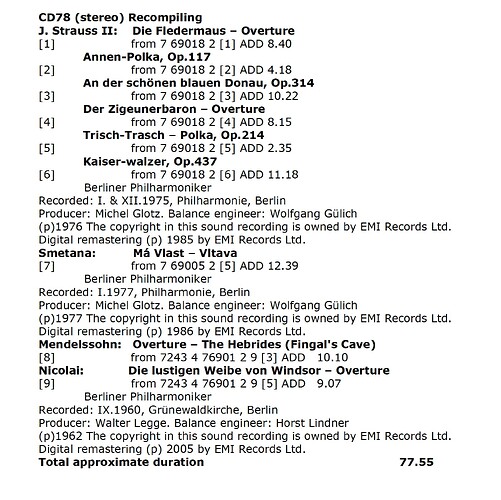 All tracks apparently by the Berlin Philharmoniker with tracks 1-6 being recorded between Jan & Dec 1975.
When I get to track 5 in MusicBrainz I'm seeing this:

Now we appear to have track five recorded both in 1955-07 & 1975-01 to 1975-12 & by not only the Berlin Philharmoniker but also the Philharmonia Orchestra.
Am I misunderstanding the way stuff is written & need me some edumercating or is this just a cock up?