I added a new Compilation CD with Various Artists and I had several problems to understand the MusicBrainz workflow and I think some things should be optimized
1.) Title list: Entering a song title does not cause open a suggest dropdown. As an example: I entered "Dance Monkey". This song already exists in the database, so why do I need to enter the artist manually? I mean having a specific title length and a title name should give us a 99% hit rate for the dropdown. The same could be done the other way around. This means if I enter "Tones and I" and the length fits only to some songs from "Tones and I" they should be listed in the dropdown. Example:


2.) Entering multiple artists is not explained. The button shouldn't be called "edit" I think. Instead it should be called "add multiple artists" or similar
3.) The popup to add multiple artists should show multiple lines by default. It does not make sense that the user needs to press the "+" button. Every click saved, saves time.
4.) Why is it needed to add the "link" phrase manually? Why no dropdown with:
" , "
" and "
" feat. "
" feat "
" & "
Custom
And if the user selects "Custom" he can enter a phrase manually.
5.) There is no option to add a second/third medium to an existing release. The only option I found was to add a new release and finally merge it. Is this the usual way? If yes, please add an "add medium" button to the release page to save this step.
6.) If a new release is added some options should be pre-selected like "Status = Official"
7.) If I select "German" as the language it should pre-select "Latin" as font (same goes for other languages). The user is still able to select a different font if needed.
8.) If the package dropdown is opened a help text with a link to this page is shown. Instead it should show Mini-Thumbnails of the different packagings directly in the help text.
9.) "Add Medium" is missing if you use Picard to transmit a CD-TOC: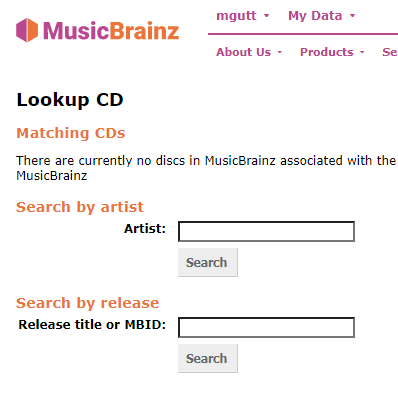 10.) If its not allowed to add Spotify to CDs (phyisical releases), it should be simply not possible or at least a warning/hint should be displayed if a user tries to add a Spotify link to a CD.