I always try to add "remixer" and (to a lesser extent) "remix of" credits to releases, but find the process very tedious and time consuming. So I finally got around to writing a userscript that semi-automates the process. It should work pretty well in about 95% of cases.
The script checks to see if a track title contains a remix credit and then adds links which open the "Add relationship" dialog, set the type field and fill in the name: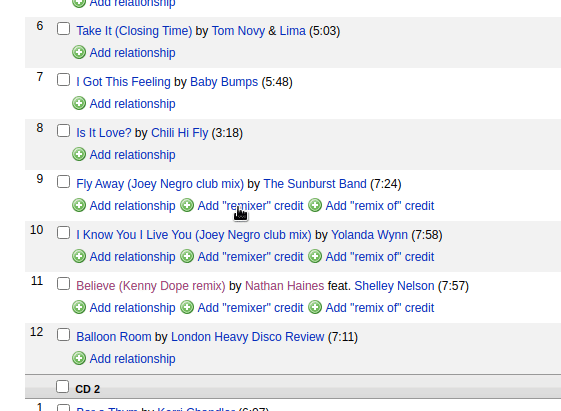 This reduces the entire process to 3 clicks (assuming the remix artist already exists in MB). The "remix of" process doesn't tend to work very well most of the time as track names often exist multiple times in the database (or not at all).
You can install from my Github repository or directly below:
mb_add_remix_credit_links.user.js
I've only tested the script in Brave/ViolentMonkey on Linux, so it may not work in other browsers/extensions. If you have any issues then let me know here or raise a Github issue and I'll do my best to fix them.
Edit The script has been updated and is now working in Tampermonkey on Firefox