Hi there and thanks in advance! I have been messing around with Picard for a while and I can tell it is powerful, but I can't seem to get it to work smoothly for me. (User error, I'm sure)
Here is an example. In this case, Only 3 out of 12 songs have the "green" icon that means "excellent match"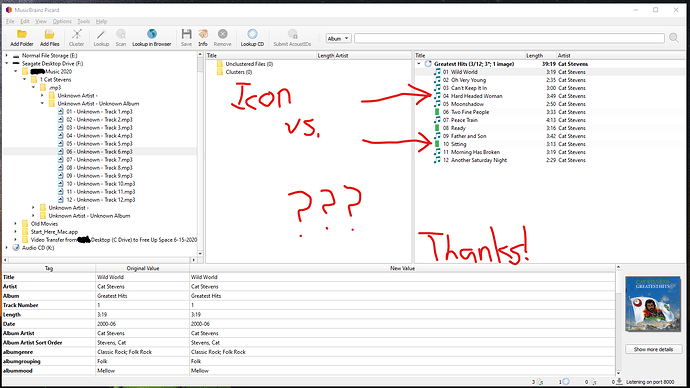 I looked in the Documentation and FAQ, and don't see what the "musical note" icon means. It looks like I have selected the proper CD. The number of songs are right, the titles are right and the artist is right. I even checked the A&M Records Catalog Number and it's an exact match!
When I "Save", only (3) .mp3 files get saved with the updated tags. The other 9 songs are still missing all the tags and meta data.
I am sure it is simple, but I still have not gotten the "flow" of Picard yet!

How do I "tell" Picard that it found the right Album, and all 12 songs are correct, so go ahead and save the tags to all 12 songs?
Thanks, and I hope you all have a nice day