Moved a bunch of posts which should have been in this thread here. @Tiske_Tisja: feel free to specify what the issue is in this thread

Hi
MB: Bulk copy-paste work codes:
There is something wrong with:
SPA ID
Amra ID
PRS Tune.
When I use MB: Bulk copy-paste work codes those ID's are red.
Hope you understand what I mean
Ty Tiske
Being hit by this. Kinda hit and miss as to which images want to be imported.
Need to move art from this release to another one: https://musicbrainz.org/release/a9c51dd8-b55a-3aea-ba6f-11e62447e6fb
And get these errors from the JPGs… some do copy, most don't.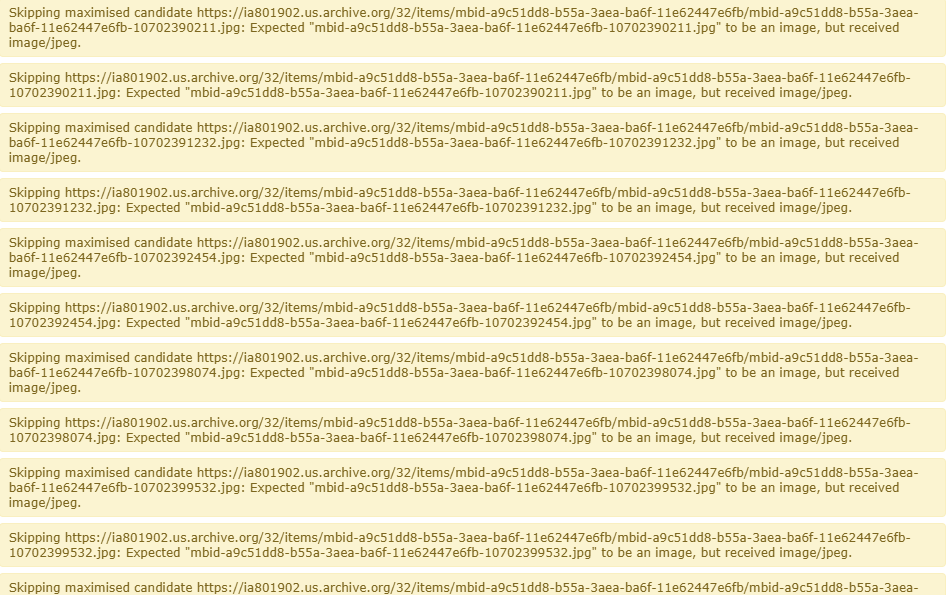 Win10, Vivaldi, Violent Monkey 2.13.4
It seems to have been fixed in the newest Violentmonkey beta
But I've experienced other issues with it so I'm back to Tampermonkey which might have worse performance but at least it works more reliably and has better security features.
I don't juggle my Monkeys as I assume I'd need to reinstall all the scripts.
As of today, ECAU no longer works for me. I get this error every time, regardless of image provider:

macOS Ventura 13.1, Firefox 108.0.2, Violentmonkey 2.13.5
Hi, just wanted to chime in real quick and assure everyone that I'm still alive and that I haven't abandoned the project. I've been really busy the last couple of months (work, moving, etc.) so I haven't been able to dedicate much (or any) time, but I'll have a few weeks of leave later this month which should allow me to look into and hopefully fix the reported issues.
Advice on "juggling one's monkeys" as it were?
Is it possible/feasible to have 2 userscript managers installed simultaneously and both be functional? I experimented earlier by installing Tampermonkey and attempted to add some scripts to it but when I went to do so my browser defaulted to Violentmonkey.
There seems to have been a Firefox related bug. Should be fixed in v2.13.7
"juggling one's monkeys" is easy enough. Export the data and import it into the other. As long as you don't have hundreds of scripts where half are disabled it should be pretty painless.
It is possible but expect problems especially when you have the same set of scripts enabled.
I for one have both extensions installed but only keep the one enabled I want to use/test.
Has the Soundcloud SC_CLIENT_ID changed? Guess not, it only happens with some:
Failed to fetch or enqueue images: HTTP error 401: Unauthorized
Some things I've noticed while on mobile:
Deezer wants to redirect somewhere else, so fetching from the desktop page fails. Maybe fall back to the API which can still be used without credentials?

Bandcamp pages are also slightly different on mobile. Cover art fetching fails even though images are there. Image Max URL also has no trouble.
mb_multi_external_links
I have no idea. I tested it on this release and it worked normally. Maybe it's something to do with the settings on that account?
Hi! The enhanced art uploader currently (at least for vgmdb) takes the comment, uses the beginning to detect the type, and removes that string from the comment field. This would be useful for things that just say "Front" where the comment is unnecessary but for more complex comments it leaves stuff behind and doesn't look as good/creates incomplete phrases like "Box Front (small)" to "Box (small)", so I normally put those parts back in the comment. Maybe if the script only removed if the type was the entire comment that would be better, or an option for it.
Thanks for your scripts!
But that booth.pm example mixes 3 different releases on the same page with only one cover (supposedly the download edition cover art, only):
Booth "another jacket" edition (I think it means alternate front cover)
Download edition
CD edition with additional sleeve (probably non-square front cover)
I think it's two editions, limited edition with "another jacket" and another with a bonus exclusive mp3 download you get after ordering. I added the link to that release before I noticed that bonus, made a new release for it and removed that link but it's still pending. So only one release for sale there currently.
A better example: https://musicbrainz.org/release/90069298-34f4-4d79-9b67-6d142e071549
a feature idea for the Bandcamp importer… surely you know that Bandcamp pages can have a custom URL, I wonder how difficult it would be to automagically add both the custom and canonical *.bandcamp.com URLs to the imported release?
an example release with both links already added…
Apparently the custom redirects to the canonical.
To me it's bogus, we should only keep the canonical URL.
Even without redirecting, if the same page has 2 URL, the main one should be kept, IMO.
I believe that's a userscript doing that, probably one of murdos'? scratch that, it could be Firefox doing that… on Chrome, if you navigate to another page on the Bandcamp, it'll redirect to the mumbleetc.com equivalent
I think it would be good to keep the custom URL, as unless you've got that userscript, that's all you'd see…
that said, if we're only keeping one, the canonical URL would be the one to keep