Fantastic as Acoustid is, there are often spurious links to incorrect MusicBrainz recordings. This is fairly obvious when you look at an Acoustid page because the valid links will have similar titles and high source count, whereas the invalid ones will match to completely different title and have a source count of one. However worth noting many Acoustid do only have a single link to a MusicBrainz recording and a source count of one, and these are completely valid.
I have created a report and put in on Albunack that lists Acoustids that are linked to multiple MusicBrainz recordings, and the recording titles are significantly different, and one link only has a submission count of one, and another link has a submission count more than that. The report is ordered by the good artist credit and simplified MusicBrainz recording title so if you are interested you can look all the Acoustids for a particular artist that seem to have some bad links are grouped together in the report, then if you click on the link its take you to the Acoustid page and you can disable a bad link.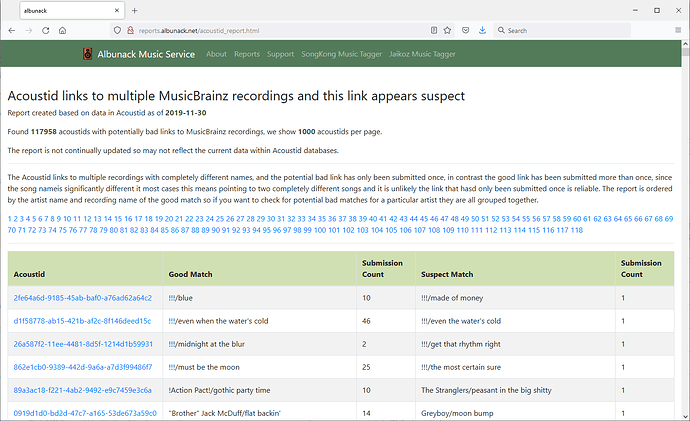 The report is based on Acoustid data from September 2019 (when last full dump available) so it is a little out of date but the testing I have done indicates the potential bad links found are mostly still enabled in Acoustid, most of the potential bad links do seem to be bad links but appreciate others taking a look
Report are here - http://www.albunack.net/reports.jsp
I have written article on how to use the report on my own forum.
Still a work in progress but the SQL used to generate the report is at https://bitbucket.org/ijabz/acoustid-server/src/master/calc_all_bad_acoustids.sql and https://bitbucket.org/ijabz/acoustid-server/src/master/calc_bad_acoustids.sql