Forking from How to change stop-gap "release group" members to series?
I am set to add some releases that are members of a complex group of releases. (At least one 32 CD box-set and also multiple re-issues of a series.)
I would like to get the naming right this time. (There are over 60 discs and releases to add.)
The naming of the release will also be carried through into RG and series' names.
These are classical releases.
The following examples are samples from one release group.
The Great Pianists, Vol. 1 Vladimir de Pachmann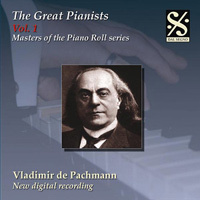 How should they be named?
(There are currently multiple errors in names and label. Please use the CA as per CSG.)