Vivaldi is very tweakable. Blame the guy who wrote it - he wants to be able to adjust things in the core browser.
Here is Vivaldi's menu as it appears on the right click after I highlighted "Firefox" in your post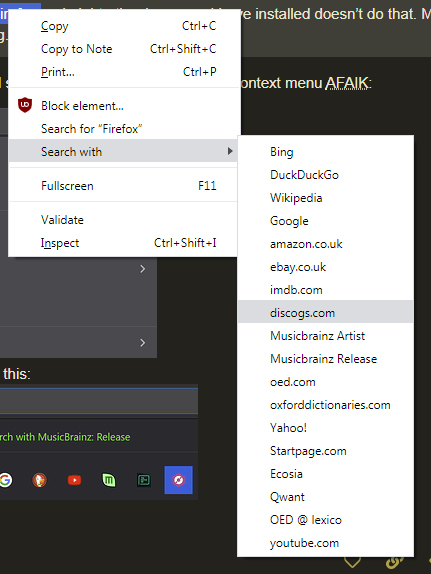 A totally random mix of extras on mine. Some added by Vivaldi, and then others I have added over the years. The search results pop-up in a new tab making it real quick to chase.
I add the custom searches in a similar way to Firefox, but it is much more usable on the right click like that. Makes it really handy when adding a new release here at MB as I can quickly find the Wikipedia\data and Discogs links from within the page.
I really should add a few more on here like ISRC searches. In my old Opera Browser this list was about 50 items long. And get rid of junk like Startpage\Yahoo\Ecosia\Qwant - never used