We had some changes to how Picard is being built for Windows. The goal is to allow Picard to be built with the latest versions of libraries we use. Since I can only test on a limited set of Windows systems myself, I would appreciate if some users could test the current builds.
If you want to help ensure that the next Picard release will run on as many Windows systems as possible, please download the development build installer picard-setup-2.0.5.dev1.exe
Installing this release will replace your existing installation, but you can always reinstall Picard 2.0.4 again after testing.
The usual disclaimer applies: While the current Picard development release usually is quite stable, this is still a development build and unexpected issues can happen. Please make a backup of your configuration and of the music files you are processing with this build.
One ser visible Windows related change in this build is that it will add customized tiles to the Windows 10 start menu. Feedback on this is also highly welcomed. There has been some discussion about the background color. If you have some sense for design and an idea how to improve this please let us know. Here is what it does look like now: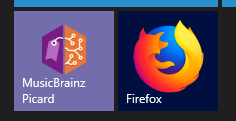 Some more screenshots can be found in the pull request.
If you are curious what else is new in this build take a look at the tickets for Picard 2.1