So fellow MBrainz'er @UltimateRiff showed me that I can make playlists on LB, which is a cool feature I could work on.
Have an idea for a playlist (doesn't really matter to this problem) and create it, then to add tracks.
First track is Purple Rain by Prince and the Revolution; pretty popular song, most people probably know it.
So I type in Purple Rain, the query results are: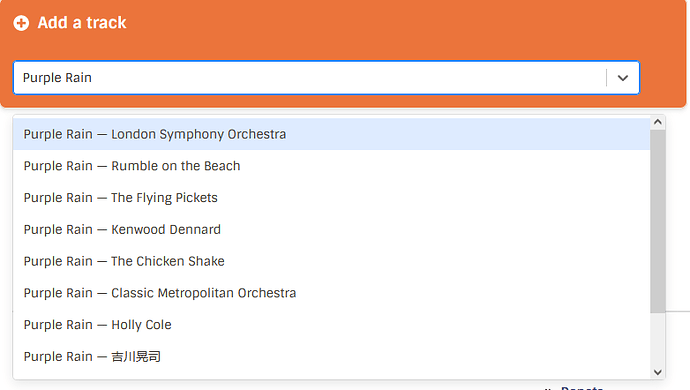 OK not great, it's managed to pull a load of covers (probably) instead of the original.
So I type
Purple Rain Prince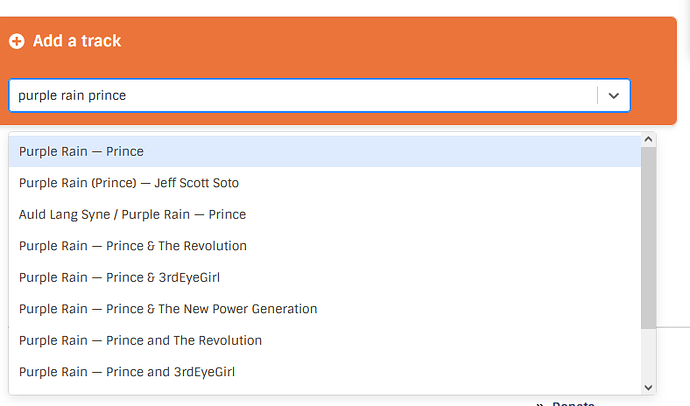 The first result, although the wrong artist (but lets take this from the laymans point of view of what would they chose) goes to a demo recording:
OK so let's now say we chose the Prince and The Revolution option:
Nope that's a different live version, not even the one from the album
So I find the album:
Now I have the correct recording entity:
But I can't paste it into the query box like I can with every other query box on MB
So…
In Short: how do I add Purple Rain to my playlist.
In Long: is there not some additional logic that could be introduced here, for example weighting recordings which have lots of links against them (such as recording entity 85a752f8-cbad-42e6-8828-bd81318e3c7d) over recordings which don't?