Hi everyone, I've been using Picard for about a month now and this may just be something I'm doing wrong or a setting that's not checked but I'm not finding it in my searches. I'm big on physical media and still buy the vast majority of my music on CD and then rip them to FLAC using EAC. When I originally ripped my CD's about 10 years ago, I manually created the folder structure while letting EAC create the file names and add ID3 data. I've been using Picard to go through my FLAC library and manually write a lot of the ID3 tag data that was missing or incomplete. I've got it setup to write to my preferred folder structure and life is good with my FLAC's.
I do use dBpoweramp to do a mass conversion of the FLAC files to MP3 so I can fit them on a thumb drive for my car or use them on my phone. dBpoweramp just mirrors the FLAC file structure into a different directory. Meaning all my FLAC files are in D:/FLAC and all of my MP3's are in D:/MP3. On top of this I do occasionally buy MP3's from iTunes for certain music that does not have physical media. I would Picard to organize my converted MP3 folders/files without having to go through and manually select the specific releases of each album like I did with FLAC. When I have Picard look at MP3's that were converted from my FLAC files it DOES seem to see the musicbrainz ID3 tags written by Picard. Like this.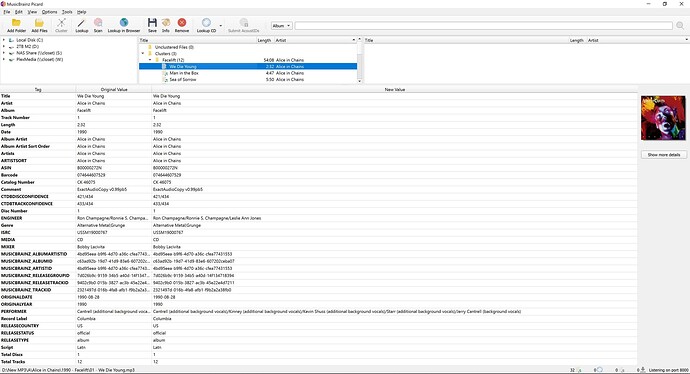 You can see that screenshot has the album already in a cluster. It clusters all of the albums. However, if I choose the "Scan" button, it tries to add new ID3 tags, just in a different format. The ID's themselves are the same but the Tag name is different. The previous tag will say "MUSICBRAINZ_ALBUMARTISTID" while the new tag will say "MusicBrainz Artist Id".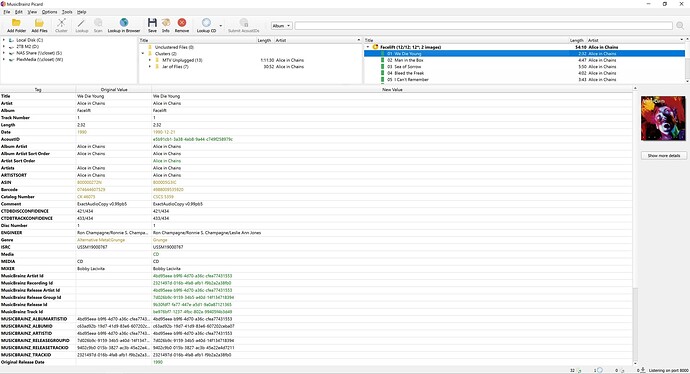 Anyone have any suggestions on how I can make it recognize the existing tags and not add a bunch of extra tags. From tagging my FLAC's I can tell you that it will select the wrong version of many of my albums. Thanks in advance.