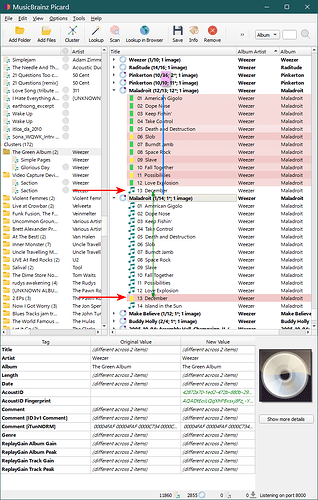 Here, two suggestions are provided for what is basically the same release. Note that moving track
#13
from the release suggestion below to the release suggestion above results in a complete album, and can be saved and removed. However, it's all lonely in it's own release which feat 14 tracks. Meanwhile, there are only 13 tracks on the SSD: why even offer the 14-track release as an option, moreover why place one file in that release? I'm thinking maybe there's a function or class that's not executing in the code (i'm nuts). That logic seems like it should be there. I beg you pardon, as that's absolutely not meant as a vote down. Merely an observation.
I consider myself a bit of an audiophile, but not to the point of trying to match exact release (country, etc.). Many of my files were collected in the napster days, so I guess I look at it as-- they aren't the "real" songs anyway, and I have no idea where they came from, so what do i care about such a detail. So, It would be awesome if there were (or maybe it exists already) an option to let Picard choose (i'm sure you're working on AI integration, so it won't be long until… who knows!). Simple logic, if tracks == || < value of official release match, place in release suggestion, else check for release matches including those tracks and abandon the initial suggestion. Anything to save time.
I apologize for not searching the forum. ADHD. I'll be here all night and I can't do that tonight.