Hello everyone,
For the last three months the ListenBrainz Android team have been working on a new feature, the Feed! Beta 2.2.0 is live and available for you to try and provide feedback. Click here for how to get the Beta version of the app.
Feed
Feed is now called "My Feed", because we have two new types of feeds!
Follow Listens: Previously, listens from users you followed populated your feed and that too without the whole picture. Only two listens per user were generated and 10 listens per feed page. Now, we have separated out these listens and and put all of them in a new tab so the user has full access to the timeline of listens from your follows.
Similar Listens: This is a new idea that @aerozol pitched in and we all liked it, i.e., similar listens are listens from the top 10 LB users most similar to you, ordered w.r.t time just as feed did. This is an attempt to open the space for discoverability and induce more interaction between users. Currently this part is still being worked on, so hang tight for more updates!
While building feed, our aim was to build it complete and have a UX that "just makes sense". This is a trend we stuck to and developed this feature. Some of the quality of life features that were important for this project and are added as well:
Remote Players: Remote players (YT Music and Spotify) are in a better shape than ever with better cleanup (notification for Spotify didn't disappear sometimes) and response messages. We also made sure that this becomes reusable across the app so we can support remote playback from the get go for any new feature. By the way, Spotify and YT Music can be played for free on the app.
Swipe-to-refresh will now be established as a mandatory guideline for every screen because "it just seems right" and follows the design language of Android.
Paging is automatic. When you scroll down to access old feed, the feed will automatically loaded or "paged" beforehand to make it a seamless experience.
Dropdowns were inactive in the previous beta release as they were under active development. Now, we have all your favorite options in feed and will be expanding this functionality to the rest of the app as well.
Here's our finalised design for feed if someone's wondering: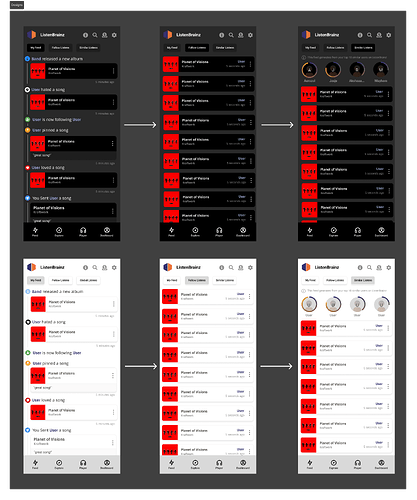 Search
Search is here for you to easily follow users. Currently, the scope of this feature is narrow but we wanted to give users something to interact with other users. This functionality will be expanded when we have the Dashboard (previously 'Profile') redesigned. Here's the screenshot of the current live version (prone to changes) :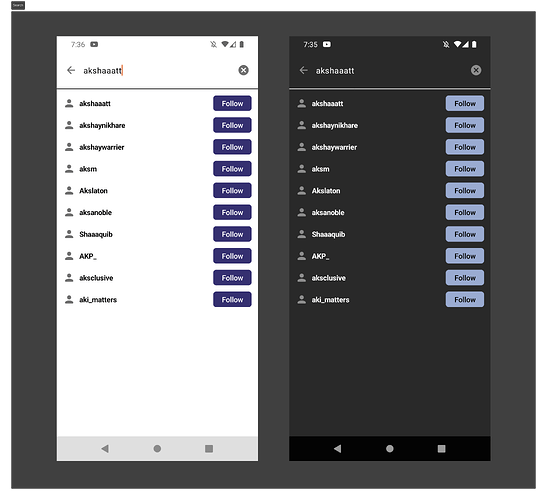 Other Quality of Life changes
Apart from feed, we had been fixing some stuff here and there. Some of them are:
Offline listens are now saved and bulk submitted with persistence.
Listens from BrainzPlayer are submitted without the requirement of notification permission.
Theme switch won't cause relaunch of the app but a quick shift.
Metadata for listen submission has been improved.
Acknowledgement
Fixing bugs reported by the community has been a lower priority as our small app team has focussed on development of these features. Going forward, resolving issues related to Listens Scrobble service, polishing the UI and then bringing new stuff to the table, will become a bigger priority.
Everyone is welcome to test drive these feature and report any bugs related to it here. Thanks to @mukti for reporting a bug with feed's paging that has been resolved in this latest release.
This blog post explains the whole process of how we developed these features.
Thanks,
ListenBrainz Android team