Sources:
Although the only truly official and tangible crediting for this release comes from the vinyl front sticker/cd back cover: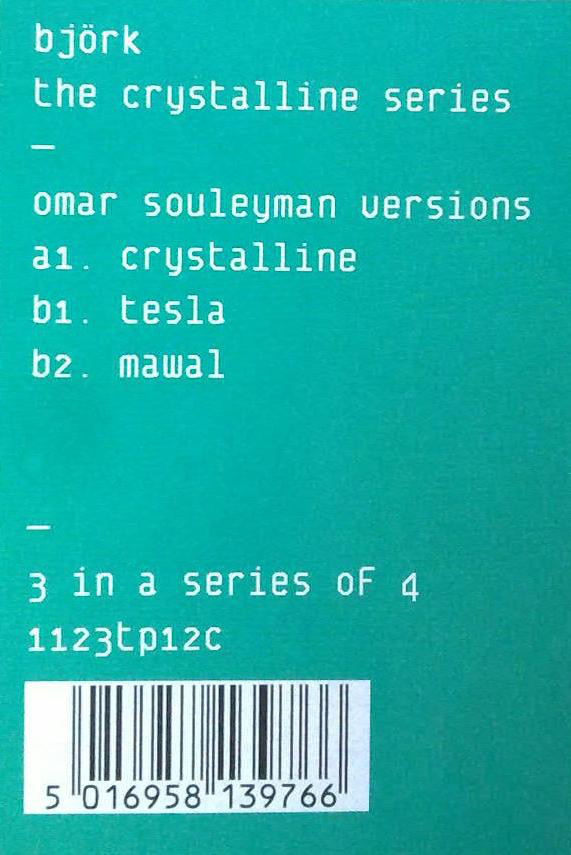 Now both MB releases have it all listed as:
Crystalline (Omar Souleyman version) - sometimes referred to as remix, physically released w/o any extra titular info.
Tesla - otherwise known as Thunderbolt (Omar Souleyman remix) or even as Tesla (Omar Souleyman remix), and again, physically released w/o any extra titular info.
Mawal - mostly provided with extra titular info about Souleyman's contribution (bar the physical release listing, of course).
The last track is a curious one, because it's a derivative version without the original publicly existing. It's also devoid of any vocals on Björk's part and essentially sounds just like a regular Omar Souleyman song… except he actually has one with the same title and it's completely different. I don't know Arabic, but on a cursory listen the lyrics seem different too. Also that Electronic Beats article refers to it as a joint effort (Björk & Omar Souleyman).
I'm slightly leaning towards standardising it all on the recording level, with titles and credits as they really are; and copying titles and credits verbatim for the track level for any particular release. That would unfortunately proliferate the digital releases according to distributor's whims, which is something I've been avoiding at all cost throughout the years of adding hundreds of digital media releases to MB database, just as I've been avoiding the whole "digital era" dispute.
tl;dr all this is way beyond my regular investigative effort I'm usually willing to do, so at this point I'm just gonna leave it at that. Maybe someone comes up with a good resolution for this mess