Hi everyone,
I've finally decided to use the file naming script after a couple of failed attempts.
The script I'm using right now is:
$if2(%albumartist%,%artist%)/$if($ne(%albumartist%,),$if(%date%,%date%,0000)- %album% [%media%\, %releasetype%] [%catalognumber%] [%releasecountry%] /,)$if($gt(%totaldiscs%,1),%discnumber%-,)$if($ne(%albumartist%,),$num(%tracknumber%,2),) - $if(%_multiartist%,%artist% - ,)%title%
It does the trick so far and I could solve it for different country releases by adding it to the script, but I'm still struggling with releases that are too similar.
For example:
(the second one is a simplified version with some additional information on the front cover, data-wise it's the same)
At the moment I ended up with this:
Cue, log & m3u files were overwritten, I think.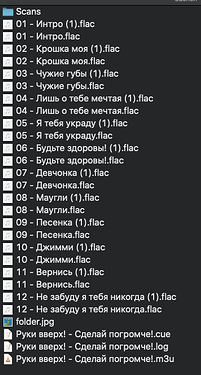 How can I set it up the way it will keep both releases separated?
I'm happy if it could grab the "Disambiguation" field too I think
Some additional challenges:
I want to capitalize the media type (album, single etc.) in the folder name
If the media is "Enhanced CD" for example, I want to keep CD only in the name
Digital Media should change to WEB
If the cat. no is [none], I want to get rid of the '[' ']'
Thanks.