(Yeah… my weird curiosity is kicking in again… happens when I am tired

)
A question for the Forum Rulers / Admin
I noticed earlier today odd Notification boxes popping up in my web browser. I didn't remember enabling them so I went into the forum settings to turn them off.
I am curious now at something I find. Why does the forum need to keep track of my computer?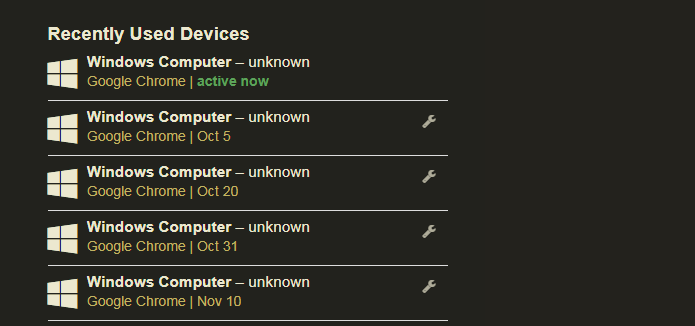 What is that list kept for? And who is getting access? Is this just MetaBrainz or is that also going back to the forum makers?
It seems a strange type of metadata to collate on us users. What is being stored about me when I login? I don't see why it is relevant to store the fact I was using Windows or Chrome (especially when that data is incorrect

)
Yeah, I can understand needing to know which computers, browsers, etc. at a hosting level as I am used to WebLogs as described in your Privacy Policy - but why is that data not anonymised as it normally is? Keeping a list of my browser and computer choices in the forum database seems a bit creepy to me. I'm guessing my IP Address is in there as well?

Ultimately I know I have no choice - I want to be a member here. Just it would be nice to know what is happening to my personal data.

I will pick out positives on this - clearly someone knows of this feature and has reduced the level of tracking. I notice at another Discourse based forum when I go into the settings there I find they have my country of access too. Good to see here at MetaBrainz that bit is at least turned off and it just says "unknown". And the booting out of Google Analytics is a DoublePlusGood in my eyes.
Thanks for looking after my privacy

It now makes me think about setting up my VPN for a few more countries so I can just "spin the dial" each time I go online and pop out at another random part of the planet. Hehe…
Oh - and it is clear not many people read the FAQ. Did you know that the "Site Feedback" link goes to a secured page us users can't access?

Site feedback category tries to open the following and fails: https://community.metabrainz.org/c/site-feedback