Previous code used freedb. i give it a freedb "DiscID" (32bit hash) and it hands back a list of discs, i pick the one i want, tell it which one, and it hands back a tracks list. quite simple.
My code currently can create the TOC data (lead out + start sectors of all songs), or if necessary i can hash together the "music brainz disc ID" (as distinct from the old freedb "DiscID"). not doing that now but if you think i need to, let me know.
so now, when i do (i think it's) a fuzzy search like this:
https://musicbrainz.org/ws/2/discid/-?toc=1+10+169490+150+15800+34860+51180+68873+84038+98445+115918+134148+151053&fmt=json
i get back a list of "releases", in this case, i get 12 items. but only two of them have one "media" containing one "disc". which seems to be the list i'm looking for? i can stick'm in a menu by putting the "titles" in there, ends up looking like this: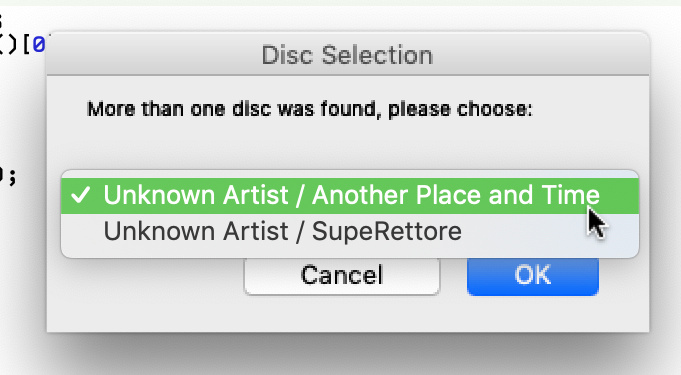 behind the scenes, the menu model tracks the "disc id", in this case "C3ABjifq8EDMmxSSopt480krqr0-", but then, how do i get a tracks listing with track, song name, artist, album, genre, for every track on that specific disc?
ie: what would be the cURL command to fetch the tracks from exactly one disc, and how would i specify that one disc, since even "musicbrainz disc id" can return multiple hits?
do i use the "media id" in this case "a6e38367-bb85-4c78-befa-d1fcd1d7375d" ? if i attempt a lookup with that i don't get any track info.
Also, how do i get the artist for that disc? it doesn't come in with the "discid" lookup…
is there doc for "how to get the same info you got using freedb" or "a programmer's guide to musicbrainz API for those who previously used freedb" ?