I'd like to request some additional votes on some edits. Primary discussion is HERE for the Halo 3: Original Soundtrack
My edits
Main Tracklist for Disc 1
Recording for Track 2
Recording for Track 5
Recording for Track 8
Recording for Track 9
Warlord Blade's edit
Main Tracklist for Disc 1
Recording for Track 8
Booklet scan from Discogs
[URL=http://s1186.photobucket.com/user/SHat221bBS/media/MusicBrainz/Halo3BookletDisc2_zpswkrmjpjv.jpg.html]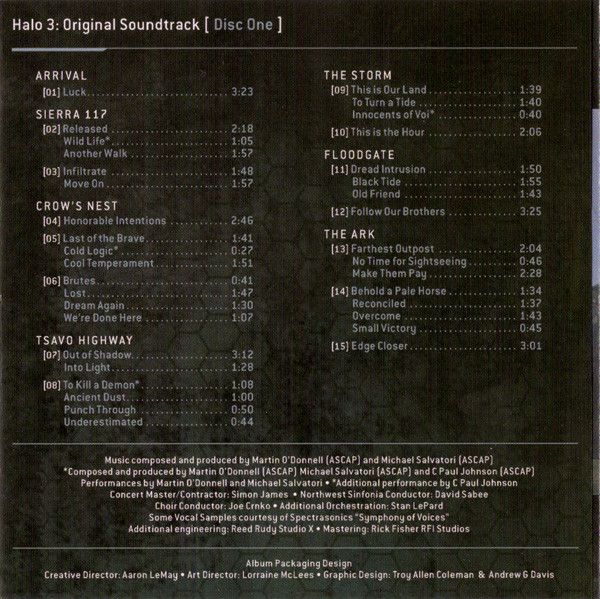 [/URL]
Most tracks have multiple compositions and most are by the same composers except the ones with an * (asterisk)
"*Composed and produced by Martin O'Donnell (ASCAP) Michael Salvatori (ASCAP) and C Paul Johnson (ASCAP)"
Following compositions are by Martin O'Donnell, Michael Salvatori and C Paul Johnson the rest by Martin O'Donnell and Michael Salvatori
Track 2: Wild Life
Track 5: Cold Logic
Track 8: To Kill a Demon
Track 9: Innocents of Vol
Warlord changed the composer of track 8 to just C Paul Johnson. This is incorrect as seem in the scan above. I voted no and entered the corrections which he voted no on.
Additional votes would be appreciated
@Warlord_Blade .