I just assumed that it wasn't possible to add a Series to an Edition Group until I clicked the "+ Add Relationship" button in the Edition Group and got this menu: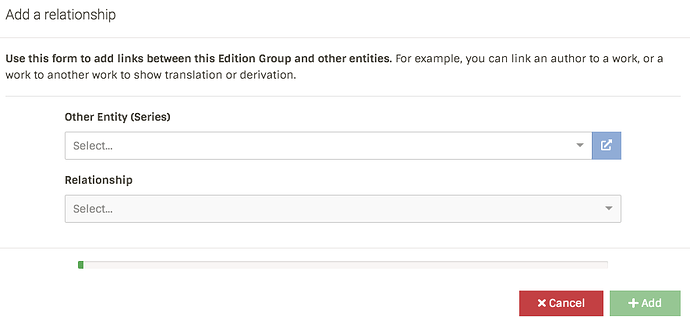 My excitement was short-lived because the Series I searched for isn't returned and in fact it is not possible to add any relationship to an Edition Group.
Possibly this is a feature that is going to be added at some stage, or maybe it is just a redundant feature.
I have encountered two situations where it would be an advantage to be able to add Edition Groups (created for collections) to a Series.
James Bond Series James Bond (Series) – BookBrainz : the short story collections For Your Eyes Only, and Octopussy and the Living Daylights are generally counted as books 8 and 14 respectively.
Cliff Hardy Series Cliff Hardy (Series) – BookBrainz : the short story collections Heroin Annie, The Big Drop, Man in the Shadows, Burn and Other Stories, Forget Me If You Can, Taking Care of Business, and The Big Score are counted respectively as books 5, 7, 11, 16, 20, and 28.
No doubt there are many other examples.