I'm just about to start adding poems and I think we will have to think about a few things.
First of all, we should try to avoid this: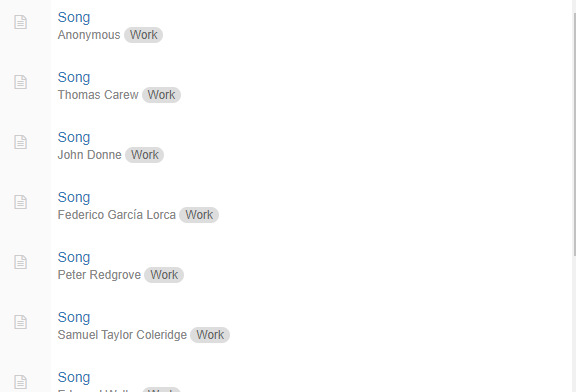 Many poems just have short titles or just a catagory as title : Ballad, Song, Sonet, Love, etc.
So the first line has to be added in all of these cases. Maybe we will have an extra field for this later, for first I will add the first line in square brackets […].
Many poems have subtitles or dedications below the titles (often in a different font). I will add these using round brackets "(To Agatha)" for first.
Many poems have no title at all. Do we want to use the first line as title then, or just add it with first line [Last night I dreamt of thee, sweet brain of books]?
There are many title variants especially when it comes to poems of earlier centuries. I think we should to try to find the earliest published version for the primary work. But that might be difficult sometimes, even if most of these old poems are very well documented.
We will have to deal with variants like this:

which leads to the question: Do we treat the Modern English version as translation or as an alias?
In many anthologies you find parts of large epic poems or abbreviated versions. How do we handle these fragments?
Ideas? Opinions? Objections?