Hello,
Long time user of various Brainz services, first time poster, please accept my apologies if I am posting in the wrong place, etc.
What I'm trying to do; get a fingerprint with chromaprint, forward this to the AcoustID web service to identify the track and then do other stuff I haven't quite figured out yet.
I'm struggling with the POST method, If I construct the request so it reads:
http://api.acoustid.org/v2/lookup?client=my_api_key&duration=358&fingerprint=helloiamafingerprint
It works and all is well with the world. Ideally I would like to supply the fingerprint and duration via a JSON file, so I open the developer tools on Firefox and and it looks like: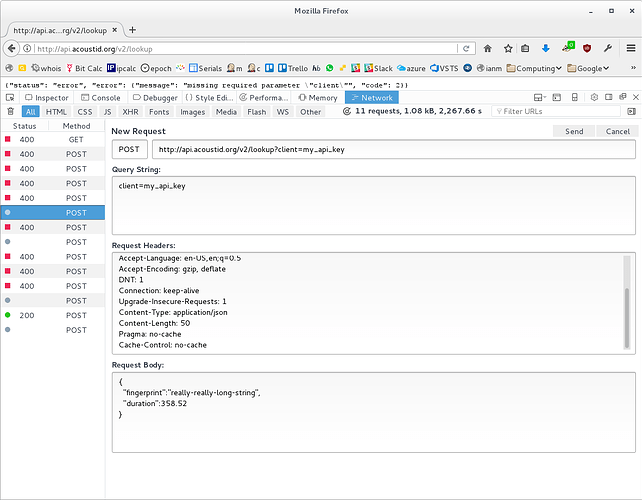 And I'm getting the error:
"missing required parameter "fingerprint""
Can anyone shed any light as to how I can get the track metadata sent via this method or isn't it doable (or more likely, I'm missing something totally obvious).
Thanks in advance
Ian