Hi, AcoustId currently has about 63M acoustids, MusicBrainz has about 25M recordings, so clearly there are many tracks in Acoustid that do not have a corresponding track in MusicBrainz
When Acoustids are submitted the basic metadata is stored with it, and when you lookup the Acoustid on the website you can see under the user submitted section columns for artist, title and album. What is not so apparent is that Acoustid also stores albumArtist, track no and year metadata as well, and track duration can be derived via the fingerprint.
As I have a combined MusicBrainz/Acoustid database I have been looking at this data and have been able to create Acoustid Albums that dont seem to be in MusicBrainz from the metadata.
The reports let you look at potentially missing albums, click on Show Tracks to see the tracks in the release and Import Release to seed the MusicBrainz release editor with the basic data, so I hope people find this useful.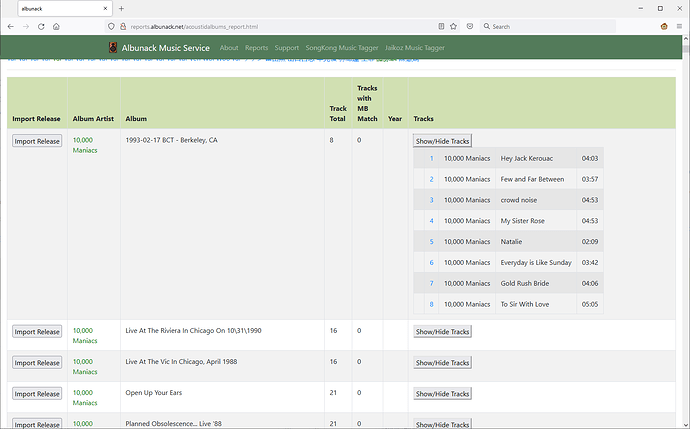 I filter out poor quality metadata (e.g title = 'Track 01'), and filter out albums where I could not find all tracks, I then filter out albums where more than three Acoustids are already linked to a Mb Recording because I'm trying to find albums that are not currently in MusicBrainz. Then for the albums left I do a case-insensitive search in MusicBrainz for albumArtist/Album to find matches that just dont have acoustid match and filter them out. Then I filter out any albums where I could not find a case insensitive text match between albumartist and an artist in MusicBrainz because this helps weed out some nonsense data.
Note:I haven't tackled multi disc albums yet, each disc will probably be listed as a separate album, and some albums will be listed as multiple times, the compare with MusicBrainz is based on text match so in many cases the album may alreay be in Musicbrainz with slightly different name so proceed with caution.
The initial list is about 500,000 albums
I've split into three reports, based on how many existing releases the artist has in MusicBrainz. So the first one is artists with more than 100 releases so I expect most people will recognize the majority in the list, and alot of the missing releases are live albums, and also many classical releases. This report is more likely than the other two to list albums that are already in MusicBrainz but just with a slightly different name.
http://reports.albunack.net/acoustidalbums_report.html
The second is artists with between 2 and 100 releases, so these are smaller artists, and there are more missing original studio release but also plenty of live albums
http://reports.albunack.net/acoustidalbums_medium_report.html
The third is artists with one release or left, these are the really obscure artists, probably mainly self published releases.
http://reports.albunack.net/acoustidalbums_low_report.html
thanks Paul