So I noted that currently MusicBrainz has artist entries for:
But I digged into Mitsuki's home page and some of the albums that she released, and it seems that ABSOLUTE CASTAWAY is just used as the entity for marketing and planning of her work, and the actual performer should be just Nakae Mitsuki.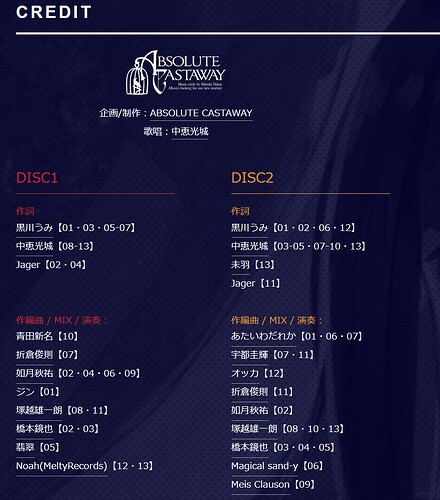 For example, the credits section of ABCAS CHRONICLE actually reads "planning and production: ABSOLUTE CASTAWAY; performer: Nakae Mitsuki."
Also the link to both ABSOLUTE CASTAWAY and Nakae Mitsuki in the previous instance points to http://nakae-mitsuki.net/ which is the personal homepage of Nakae Mitsuki, but is titled ABSOLUTE CASTAWAY.
Should I merge both artist entries, and keep ABSOLUTE CASTAWAY as just a record label entry? I would like some suggestion on how to deal with this issue.
Sincerely