I try to tag my local files from this album:

Most of my tracks are shown with a green check mark.
But all my tracks with an apostrophe (straight, curly or whatever you name it) are shown with a difference in the title. Unfortunately I can't see any difference between this two titles #1 and #2 in track number 8 of above album ("Don't Let Me Lose This Dream")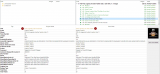 How can I make this difference more obvious?