How do I get a usable executable from that page?
I click on "package-windows (portabl…" in the left hand side, lots of ticks appear next to works… but nothing I can download.
The following is therefore done with the Beta v2.3b1
The Lookup literally does NOTHING. Click button, status bar says can't find it.
I have gone back to a raw set of files again. These have only basic tags filled in. No MBIDs. No disc numbers. And there are two files missing so I have 94 of the 96 tracks numbered 1 to 94. Everything has perfect track names with only Capitals Different.
Drag whole folder into left hand side from the desktop - it gathers in Unclustered Files
Click CLUSTER and they all come together
I look at titles and I see "album = A Trip to the Moon" and "Album Artist = Pink Floyd"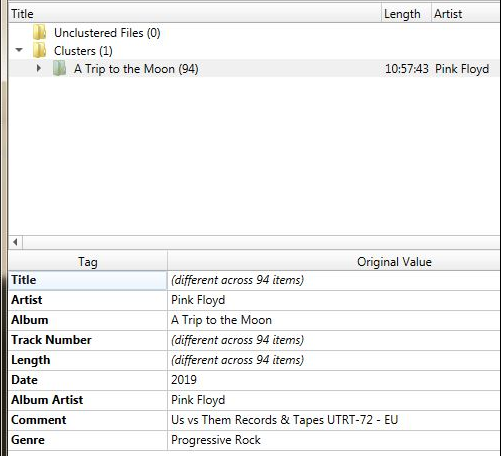 With my cursor highlighting the cluster…
Click LOOKUP and it says in the status bar "No Matching Release for A Trip to the Moon"
Click LOOKUP IN BROWSER and there at the top of the list is the correct choice.
Now lets modify that title to improve lookup chance - adjust the title to what is in the database. I do this by closing Picard, then drop the whole lot into MP3TAG and change just the title to exact match of he MB database. Now back to Picard and repeat the above steps (with tracks still currently numbered 1 to 94)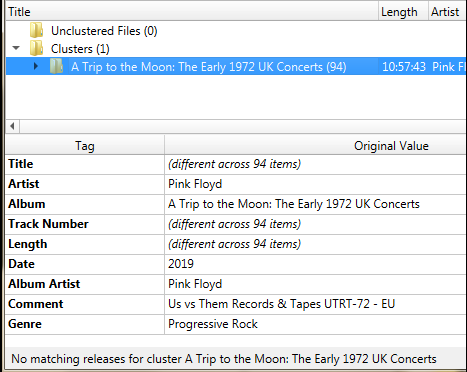 Notice the status bar in that image? Exact same result as with half the title.
Notice that image also shows you ALL the tags that are filled in.
Next, experiment with lowering the CLUSTER matching as requested. Currently at (default?) of 80%. First test I went to 60% and now it is (almost) bang on with just the one release match. Juggle setting and I find 75% fails but 70% succeeds.
Note: There are slight oddities with my files. The version in MB is from the CD package and has the true 96 files listed. My copy is missing two files, so I only have 94 of 96 files.
When the cluster match was tweaked to 70% I am getting almost perfect alignment of those 94 files with their correct slots in the list. Only ONE has been incorrectly linked. (Track 9-08 was lined up to 6-01 but then they are the same name and identical times)
Also note - this is the raw files again. So these are numbered 1 to 94 and no discnumber info. And the match has worked very well all bar that one single file in the wrong place.
-=-=-
I may also have now slightly twisted the test as this morning I did add all the missing track times to this Release in MB which I guess is also now aiding matching.
EDIT: just to add, dropping that Cluster Match to 70% also means that a SCAN is now as good as it can get. 94 of 96 files correctly matched. No other releases being shown on the page. Yesterday I'd have six different releases on the right hand side.
(But this is also going to be aided by my having added AcoustID and track times to that Release on MB now)