Personal information
Nickname: ListMyCDs.com
IRC nick: ListMyCDs
Email: musicbrainz@listmycds.com
GitHub: https://github.com/listmycds
Proposal
Current search function for edits is cleverly done because you can easily make complex searches without having any knowledge about the system behind it. There's no need to have special IT-skills or knowledge about the search engine syntax because it's mostly self-explanatory. You can also easily share url to your search. I've been lately wondering could we have a similar search function for all our entities. I'm proposing a replament for the current entity search (the one from the search-menu).
For example searching for works could look like this: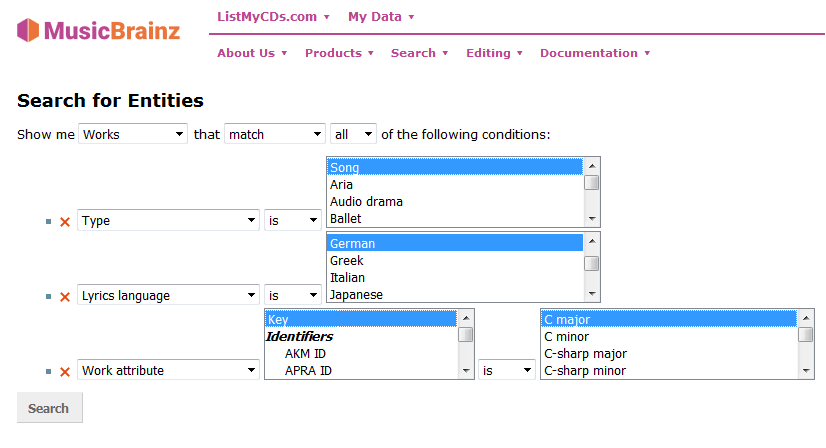 or searching for releases: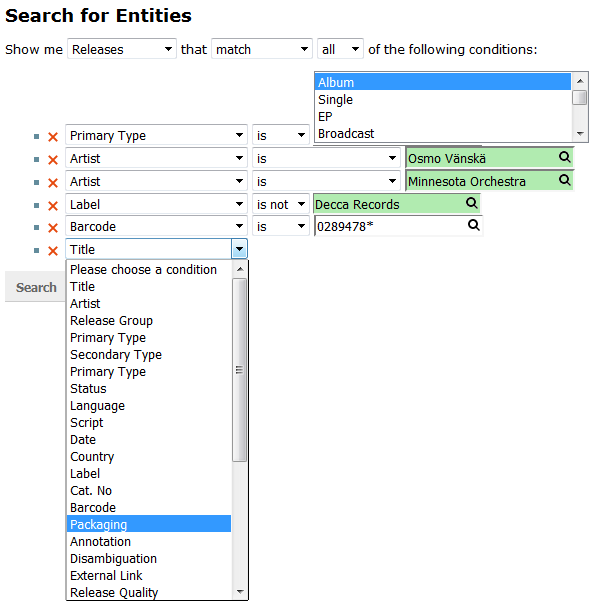 Dynamic form takes care that search conditions are only related to selected entity. I plan to include most (if not all attributes) of the entities in MB and make searching of them possible. There would be also option "All Entities" for searches related to all entities (for example url).
UI (using React) would be following the similar style as the edit search is already having. Query would be constructed based on user selections on the form and then queried from the Solr search server.
Even though I believe this search function is quite self-explanatory it wouldn't hurt to have wiki-pages with some pictures explaining the functionality. What is self-explanatory for me might not be that for everyone else. Creating these wikipages is also part of this proposal.
I plan to work closely with the community and make changes based on a feedback when necessary.
Timeline
May 5 – May 29
During the community bonding period I would get familiar with the codebase and solve some tickets. I would have discussions with the mentor to be sure that we both understand what I'm planning of doing. I need to be ready when coding officially starts. I would bond with the community and start participating weekly developer meetings.
May 30 – June 11
Search for works.
June 12 – June 25
Search for release & groups.
June 26 – July 2
Search for artists. Phase 1 Evaluation.
July 3 – July 16
Search for labels.
July 17 – July 30
Search for places, recordings & standalone recordings. Phase 2 Evaluation deadline.
July 31 – August 6
Search for series.
August 7 – August 20
Searches for "all entities" (url, annotations, mbid…).
August 21 – August 29
Final mentor evaluation. Will keep this as a small buffer if there's any delays. If everything is already done I will keep fixing some tickets.
Detailed information about yourself
Tell us about the computer(s) you have available for working on your SoC project!
3 workstations, 2 laptops, 3 tablets, Raspberry Pi 3. For SoC I would use Phenom II X6 1090T (6 x 3,2Ghz), 16 GB RAM, 200 GB SSD, 12 TB on multiple NAS-drives.

When did you first start programming?
I was about 7 years old when I got my first computer (Commodore SX-64). Computer magazines where then full of basic games and I typed many of those and also wrote my first "Hello, World!". I had some fun with Pascal (later with Delphi) during 90s and started this century with some Java. I've mostly coded some simple stuff for my own use plus couple of minor websites which aren't online anymore. As part of my bachelor's degree (Computer Sciences/Turku University) I've mostly used Java. Now during my Master's degree (Data Sciences/Turku Univeristy) I'm mainly writing Python.

What type of music do you listen to? (Please list a series of MBIDs as examples.)
John Williams (53b106e7-0cc6-42cc-ac95-ed8d30a3a98e), Jean Sibelius (691b0e9d-9e57-41cf-932d-a3d21b068e75), Kurt Atterberg (0b607587-9e4e-4ff9-b200-af563678ae2f) to name some of my favourites. You can spy me at Listenbrainz. I mostly listen film scores and classical and attend concerts frequently (I live next to concert hall). Sometimes listening some Jazz and while being drunk I accept most of the musical styles.

What aspects of MusicBrainz interest you the most?
I've done almost one million edits on MB and use my time daily on the site. Still I'm not sure if I got one major interest and can't name any aspects. I like editing for sure. And I should have a T-shirt with "I love relationships" xD

Have you ever used MusicBrainz to tag your files?
I have about 130 000 FLAC files tagged with mbid.

Have you contributed to other Open Source projects?
This would be my first time with any open source project.

If you have not contributed to open source projects, do you have other code we can look at?
Hopefully these snippets give some idea what I've been doing lately: [1] [2] [3]

What sorts of programming projects have you done on your own time?
Most of the programming has been related to my studies.

How much time do you have available, and how would you plan to use it?
I'm planning to use about 40 hours per week (need to have some time for editing too!) but but when necessary I can easily do more than that. If there would be any delays with the planned timeline I would naturally do some extra hours.

Do you plan to have a job or study during the summer in conjunction with Summer of Code?
If being selected this would be my only activity and I wouldn't accept any other jobs during the project.