Musicbrainz is currently portrayed on Everipedia as something like " a project that aims to create an open data music database that is similar to the freedb project."
There are Big Brownie points available for the worthy pilgrim who corrects this.
I'm unclear as to how the rules of another large online community created general encyclopia would intersect with a member of the Musicbrainz community editing their entry for Musicbrainz. Nor have I reasonable confidence that any such MB person would be treated with civility.
So I won't suggest that that musicbrainz entry could be edited too.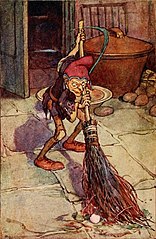 Image by Arthur Rackham via Wikimedia