After some merging parts of this work are sorted with gaps: there are parts 1, 2, 4, 6, 8, but there are gaps on positions 3, 5, 7. I would like to re-apply the sort order to remove gaps.
Screenshot #1: this is how it looks like directly after opening for edit. So far no surprises.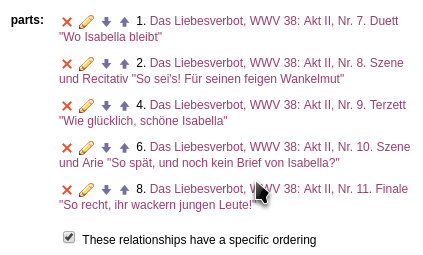 Screenshot #2: clicked on "These relationships have a specific ordering". Nr. 7 "Wo Isabella bleibt" (the first row in the previous screenshot) disappeared from the list.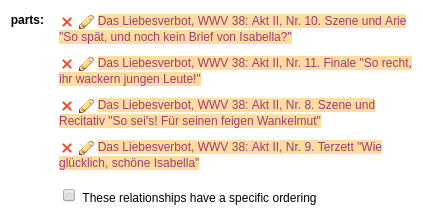 Screenshot #3: clicked on "These relationships have a specific ordering" again. Only one row remains in the list, all other rows disappeared.

Screenshot #4: clicked once more. One row re-appeared.

Further clicking does not change anything, the same 2 rows remain.
I have not saved the changes, so you may use this work to "play" with the GUI to reproduce the error.
I have already encountered this error before. If the changes are saved, some rows are saved in a numbered list, other rows in a non-numbered list. When editing the same list again afterwards, it may be properly sorted. So this bug is not a showstopper, one just have to edit a work twice. Still, it is pretty annoying. Maybe a GUI developer may look on this reproduceable example and check if a fix is trivial.
Please do not save the changes after playing with this example, to give more readers of this topic a chance to reproduce the error. I will fix it in a week or so.