Can someone who understand JSON \ database lookups \ and all that jazz help me understand these NO votes.
To be clear - these are both questions about database lookups. Not what a human can work out when looking at a written page, but the results returned to an external user querying the MB database.
1\ If a live recording happens in an arena then we have music being performed both "at dm-arena" (a building) and "in Karlsruhe" (a town).
Why can we not state both of these facts?
If the relationship for "in Karlsruhe" is removed will a database query for "what recording were made in Karlsruhe" still return this recording because the arena is at that address? Or are these fields very separate?
These are two different relationships returning to different types of answers.
This has upset an editor and is trying to "delete duplicate information", but all I see it a different type of relationship. If a database lookup saying "which town" still works on that recording with only the arena location, then I'll remove my no votes.
https://musicbrainz.org/edit/67153245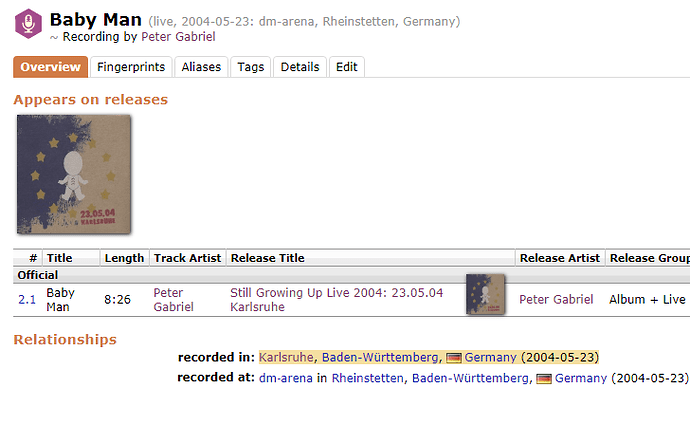 2\ This Peter Gabriel tour has produced officially released CDs for every gig. So I put those into a Release Group Series. I then found the Series relationship to link to a "Tour by Peter Gabriel".
Again I am being told to delete that relationship, even though it seems to be allowed by the GUI.
Surely there is nothing more sensible for MUSIC database to link the MUSIC to the tour? The idea was anyone who lookup on details on that TOUR relationship would be lead to the Release Groups holding the music.
https://musicbrainz.org/edit/67158069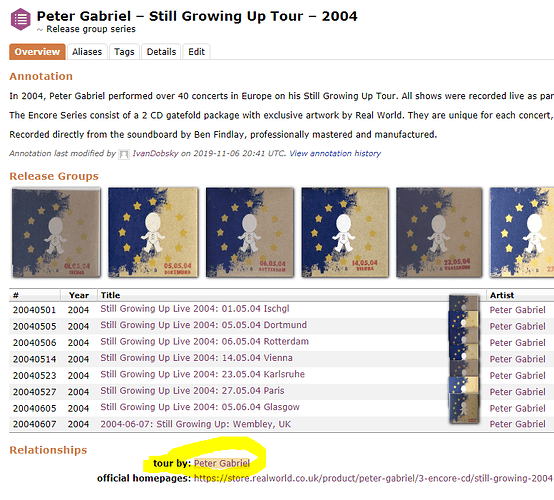 Yes, I can see that an Event could be created for every one of these releases. And then a series made of those events. And then those events linked to the tour - but that is not realistic. I don't have that time available to do that level of research and editing.
Surely it is common sense to allow the actually relevant music to be connected to a Tour type?
3\ On a side note to this, before someone says "you have to make events for all of these before you can link to a tour", I have tried creating events before but can see that the interface is not used often as it is a huge text field editor without any kind of preview. So one mistake… and then the whole editing process is lost into the seven day limbo of edit changes…